The Skwachàys Lodge and Residence – The perfect blend of culture and art.
Posted by Hani Faraj on Friday, July 22, 2016 at 5:26 PM
By Hani Faraj / July 22, 2016
Comment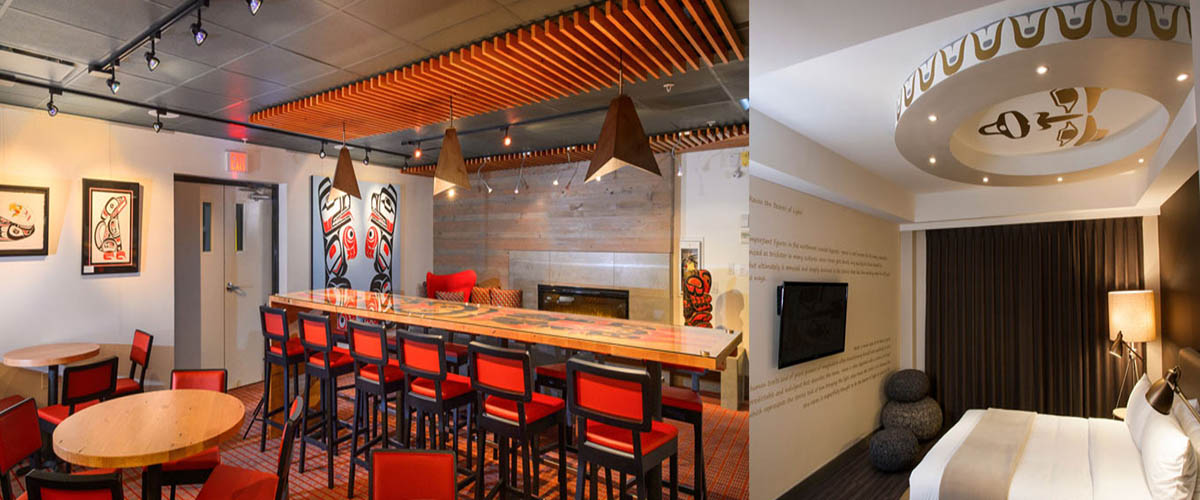 Named after the Hereditary Chief of the Squamish Nation on whose land the Lodge was built, The Skwachàys Lodge and Residence is one of the most unique themed hotels that you will get to experience in Vancouver BC.
The name symbolises the spring water that used to cover the area once when it was rich in cranberries, wild rice and elk.
The boutique hotel is owned and operated by the non-profit Vancouver Native Housing Society (VNHS) and it was created by a team of aboriginal artists and interior designers with the only motive that the profits generated by the 18 uniquely designed rooms will go towards the support of indigenous artists.
The hotel was designed for guests to be able to browse through stunning pieces of fair trade Canadian First Nations art while ordering for alcohol and some small bites which are also very unique to their style, such as the meat and cheese platter with elk pepperoni, fruit compote and cheese.
In the Kayachtn Room and all the other hotel suites, the design consists of a fireplace and a communal totem table that local artists have crafted. The main concept of the entire project is to be able to bring together art and urban living so as to grow both communities simultaneously.
The hotel officially opened in 2012 with its renowned artist-in-residence program that gave them the opportunity to allow in one of the units with funding for the projects such as the in-house art gallery featuring artwork sourced from Aboriginal artists and a hotel designed for the community travelling to Vancouver for medical services.
An example of the uniquely designed rooms would be the Poem Suite, which is an artist's expressive interests painted on walls and furniture.
The hotel boasts of different types of suits such as the Water Suite, Drum Circle Suite and Humming Bird suite among others.
The cost starts from $149 per night with all amenities such as Wi-Fi, Organic coffee, products from Aboriginal owned Mother Earth essentials, royal appointed bed maker Hypnos, fridge and microwave.
So, the next time you are in Vancouver and are tired of the usual cookie cutter hotels drop into The Skwachàys Lodge and Residence for a unique experience and to learn more about the beautiful artist community.