Sales in March 2017 fare better than February with a 47.6% increase.
Posted by Hani Faraj on Thursday, April 6, 2017 at 12:40 AM
By Hani Faraj / April 6, 2017
Comment
The new monthly update brought by the Real Estate Board of Greater Vancouver showcases a significant drop in sales in March 2017 when compared to last year.
The total sales in March equal to only 3,579 homes as compared to the 5,173 homes sold in March 2016. This records a 30.8% drop in sales over the past 1 year. But, on the plus side, the figures of March have witnessed a 47.6% from February this year where only 2,425 homes were sold in Metro Vancouver alone. Though the demand in March was below the record high of last year, the market witnessed a significant increase month-to-month for sales of condos and townhouses.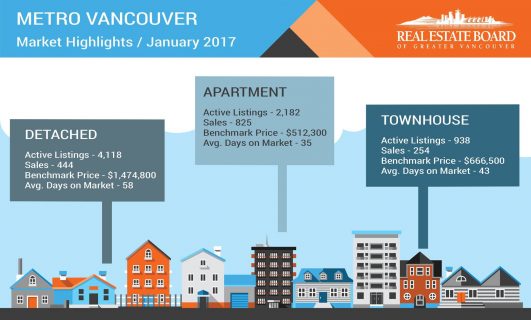 It seems that the seller's are still reluctant to put MVR Market Highlight 2017their homes on the market, which is creating quite a competition for those who wish to purchase homes. New listings for all types of homes in March were recorded at 24.1% which when compared to last year have dropped from 6,278 to 4,762 listings respectively. The Board estimated that this is the lowest number of new listings ever recorded in March since 2009.
In totality, the sales-to-active listings ratio for March stands at 47.2%. Many analysts believe that home prices will fall when this ratio falls below 12%. But, as witnessed in the past few months, home prices are likely to only continue increasing unless there is an inflow of supply of homes in the market. The composite benchmark price as calculated by the MLS Home Price Index indicates the cost of a typical property in Metro Vancouver, which is currently set at $919,300. It represents a 0.8% decrease over the past 6 months.
On the other hand, the sales of detached homes fell by 46.1% when compared to March last year. Also, the benchmark price fell to $1,489,400, another 5% decrease over the past 6 months. Also, apartment sales have also witnessed a decline of over 18.3% when compared to last year. But, the benchmark price has in fact recorded a 5.2% increase at $537,400. The sales of townhouses were also at a down low dropping to 25.2% as compared to February last year with a benchmark price of $685,100, another 1.3% increase over the period of 6 months.
Hence, the market is anticipating an increase in the supply of homes such that prices would decline and sales would showcase an eventual increase as well and equilibrium could be achieved.