Motivational : Fear can be your friend or enemy, you choose.
Posted by Hani Faraj on Saturday, April 7, 2018 at 9:41 PM
By Hani Faraj / April 7, 2018
Comment
FEAR CAN BE YOUR FRIEND OR ENEMY, YOU CHOOSE.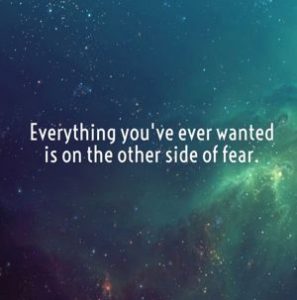 Recently, I had a conversation with one of the first real estate agents I ever hired and eventually partnered up with. We discussed many things, mostly how things used to be when we were getting started. Life is amazing when you live in an amazing country like Canada where the opportunities are endless for anyone with a little dream, and a bit of ambitions. But that's not all it takes. You have to be fearless. It doesn't mean you won't be afraid or you won't feel fear but you move and take action while being afraid.
Let me take you back to 2003 to 2008. While in high school, I was given the best advice any kid can ever ask for. I was told "if you don't know what you want to do with the rest of your life, go work in different fields and find what you are passionate about and do something you can enjoy doing."
I eventually got into financing homes but it wasn't busy enough so I got a job as a factory worker making metal frames for Ford and Chrysler cars. It was amazing for a kid in his early twenties to make great money at such a young age. After working there for a few years, I started to see the effects of the work, I had pain through out my body, spasms, and I could feel electricity running through my arms from the vibrations of the steel factory. I was transferred to a chroming factory and worked there for a year, where oil used to literally drip down on my face while I operated some of the machinery, the chemicals on the chroming line would turn my skin to yellow, and eventually it would peel. I loved every moment of it, it felt great to work. I was lucky to work while unemployment was 10-20% in the town I was in. Many of my friends weren't working even though they had post secondary education. I had to feed my family and I did what I had to do.
The most amazing thing I had that no one could take away from me was my dreams. I used to work 12-hour shifts and while focusing on my work, I would imagine a day where I could work in a job where I enjoyed myself and I made a difference. I always wanted to help people, I just didn't know how, yet - that is.
I moved to British Columbia and eventually got married to my beautiful wife Mary, I got into finance again and got my license as a mortgage broker, but something was missing. I failed to be great at it wanting to give up and doubts clouded my judgement, however I continued to persist and pushed my way through.
Something happened, I watched a video by a man I have never met called Warren Buffet, and he said "I love failure, more than success, - or something to that effect. Failure is a great teacher, success will teach you nothing." He even added, "I am obsessed with failure", my reaction was "WHATTT?!"
That was the moment where it pointed me into a new direction, I got a job working at the mall, yes the mall, for one of my favourite corporations Bell Mobility where I learned so much. One day at work, a man came up to me and we started talking. He used to be a mortgage broker but failed, eventually got into real estate to become an agent then things changed for him. Again, it was a sign.
I then got my license and my life is much more fulfilling than ever, it was my turning point. My advice to anyone going through a hard time is, keep your head up because you don't know what you are going to miss while having your head down feeling sorry for yourself.
Here's the video I was referring to and let me know what you think.