Some of the major banks recently decreased their five-year interest rates during the first quarter of 2015, according to the UDI/Vancity Housing Affordability Index. The interest rates averaged just 3.24 per cent for a five-year fixed rate. This is the lowest it has dropped since the affordability index began tracking the data.
This is a slight decline from Q4 of 2014, when the average five-year fixed rate stood at 3.41 per cent. Some banks, including TD Canada Trust, Coast Capital, Bank of Montreal and HSBC, have lowered rates even more – to 2.74 per cent and 2.79 per cent.
Affordability Defined
According to the index "affordable" means the percentage of households residing in an area has the income necessary to qualify for a mortgage needed to own the property. Banks usually want only about 32 per cent of a borrower's income going toward housing.
The affordability index divides Metro Vancouver into three section –- the City of Vancouver, Inner Metro and Outer Metro.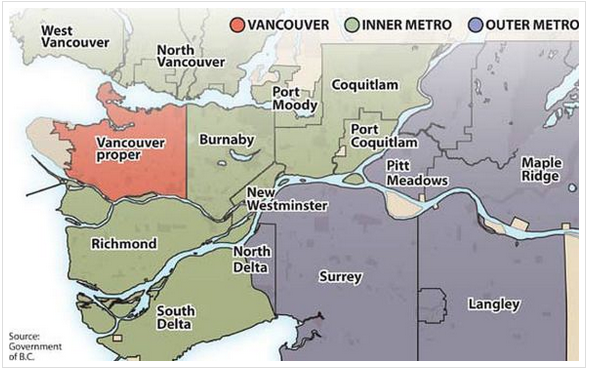 Breaking Down Each Area
Median prices stayed flat this quarter in the Outer Metro area, so the rate decline caused affordability to improve a little.
Average prices did go up on townhomes in Inner Metro and concrete condominiums in Vancouver. As a result these properties are less affordable according to the index. .
Entry Level Professionals and Investors Buying Condos in Affordable Areas
Average price rises for concrete condos were primarily driven by the inventory of condos falling in more affordable areas, including Chinatown, Marine Drive and Cambie Street, Mount Pleasant and Southeast False Creek. Those who do buy in these areas are primarily investors or professionals just beginning their careers.
Downsizers Buy Condos in More Expensive Areas
Downsizers usually buy the condos for sale in Vancouver proper. These areas –- including Cambie Corridor, Downtown Vancouver and the University of B.C. –- are more expensive and typically out of the price range of entry level professionals.
Townhomes in Short Supply
There is also a low supply of townhomes, especially in Richmond, Tri-Cities, Burnaby, New Westminster and the North Shore. This is driving the average price of the available townhouses higher.

Single-Family Homes Up Across the Board

All single-family homes saw price increase –- no matter where in Metro Vancouver they were located. Fortunately, for buyers the interest rate drop kept them at the same level of affordability.
The median price for a single family home in Vancouver climbed from $1,564,500 to $1,600,000. In Inner Metro (Richmond, South Delta, Burnaby, Port Coquitlam, Coquitlam, Port Moody, North Vancouver and West Vancouver), the median price rose from $1,055,000 to $1,100,000, while in Outer Metro (Surrey, Langley, North Delta, Maple Ridge, Pitt Meadows, it hit $632,500, up from $621,500 the previous quarter.
Who Can Afford to Buy
According to the Index, Outer Metro is the most affordable area, followed by Inner Metro and then the Vancouver Proper. over 51 percent of the people in Outer Metro can afford to buy. But that number drops significantly as you move closer to the center of the city. Only 9.3 percent of the people in Vancouver can afford to buy, while 23.5 percent in Inner Metro qualify based on the index's criteria.
Resale Properties More Affordable Than New Homes
Resale properties were more affordable compared to new units. Buyers need an income of $54,229 (up $2,000) for a Condo (wood-frame) in Vancouver. That figure jumped to $70,787 (up $5,000) for a new wood-frame condo in the Vancouver Proper.
Buyers need to earn at least $169,060 a year to purchase a median priced single-family home. This is about the same as the quarter before.
About 7 in 10 Outer Metro working households can afford to buy every type of housing, except single-family homes. Only 51.4 percent, can afford those. Over 50 percent of Inner Metro can afford all housing types, not including single-family homes. Only 25 percent have the income to purchase those.
Looking to Buy? Search Our Site to Find a Home in the Area and Price Range You Can Afford
Now that you have an idea of the types of homes you can afford, use our home search tool to narrow down your choices and locate the homes you want to view. Then, give me a call at 778-800-2587. and I'll help you find the home you love and can afford.
VHF was created by Hani Faraj. Hani Faraj has over 6 years of real estate from lending, marketing, project and development marketing to real estate sales. Hani Faraj loves real estate with all its` aspects. Hani lives with his family in Yaletown and works with one of the top offices in Vancouver.
The main reason for creating Vancouver House finders is to establish a web site where the consumer is in the driver seat. We want to give consumers of this generation all the tools they need to make an informed decision without any interference. We know that consumers today are very tech savvy and want to feel empowered by having all the tools that us Realtors have. This is why we created this site. This doesn't mean that if a consumer has a questions or needs clarifications, we wouldn`t help. We are here to help from the smallest details to the most complex part of a real estate process. Consider us your Google of Vancouver real estate.