Maple Ridge – The Perfect Mix between Beauty and Serenity.
Posted by Hani Faraj on Tuesday, March 14, 2017 at 12:30 AM
By Hani Faraj / March 14, 2017
Comment
If you want to live in a setting, which feels like it is right out of a photograph, Maple Ridge is the place for you. It has the most beautiful natural landscape in all of British Columbia. It is surrounded by the Fraser River in the south while as the north boasts of majestic beauty such as the Golden Ears and Coast Mountains. The town was primarily built on the bank of the river with Port Hammond, Port Haney and Ruskin being household names.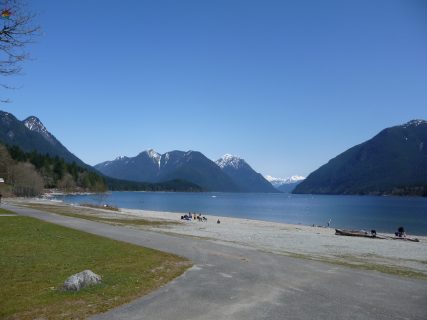 City of Maple Ridge is very well known for it's welcoming citizens who are always working for the development of its town in all areas possible. The people are engaged in sports, performing arts, senior citizen programs and charitable initiates.
Houses for Sale in Maple Ridge BC are located in an area that is well-known for its natural beauty. The city is located in the Fraser Valley, and is surrounded by mountains. There are a variety of houses for sale in Maple Ridge BC, and each one offers a unique view.
In terms of living facilities, City of Maple Ridge is a great place to start a family or steal precious moments with your significant other. The town is well known for its schools that are part of the School District No. 42 such as the Maple Ridge Secondary School, Thomas Haney Secondary School and Garibaldi Secondary School. These schools provide great courses focusing upon sports, arts, technology and work towards building an able community filled with brilliant teachers, mentors and students.
Read Also:
Though the public school system is extremely self-sufficient, there is a great list of private schools such as Meadowridge School, Maple Ridge Christian School and Kids by Design Preschool that are also very well funded and run smoothly. In addition to the education system, the city boasts of a stellar public library that is part of the Fraser Valley Regional Library system and contains an impressive collection filled with spaces for young individuals to hold discussions and hold meetings.
An important aspect of any well-established city is not only its initiatives, school system and environment but also developed public spaces marked for family picnics, recreational activities and just good times. The area is spotted with beautiful parks such as Maple Ridge Park and Golden Ears Provincial Park. In addition to these beautiful parks like cliff park, one can also go for hikes on different trails in Maple Ridge and Pitt Meadows.
The most novel thing about living in Maple Ridge is that you are always only 15 minutes away from the dykes and trails that let you get away from the humdrum of everyday life.
In addition to a beautiful landscape and recreational public spaces, the Maple Ridge community also boasts of shopping centers that provide everything from daily essentials, antiques, and boutique shops to farmers markets held every weekend.
Some of the shopping centers very well known include the one on 224 Street which offers several boutique shops, some of the unique ones being candle shops, candy stores and home décor. Another famous one is the Town Centre Lougheed Shopping Corridor that houses the indoor shopping centers that attracts a lot of art and food lovers.
The people care about taking up causes that they believe in and relentlessly work towards the same. One of the most remarkable initiatives is the Volunteer Maple Ridge that helps people in the vicinity find volunteer positions with non-profit organizations in the area and help develop their work.
Read Also:
The town also boasts of a wonderful senior citizen center, which tirelessly works towards providing great facilities and activities. The people of Maple Ridge celebrate all kind of festivals ranging from Labor Day, Christmas to New Year with the same level of enthusiasm through and through.
City of Maple Ridge is well connected to the rest of the B.C area via Bus, Train, Ferry, Taxi and Car. It is very well maintained and runs regularly on all days. If you are a working professional, it is a great idea to set-up your home here and travel to work which a lot of young individuals are now taking up due to lower rates and better facilities.
The west coast express is an excellent example of the convenience and comfort you will experience when you travel back and forth. The network gives you the opportunity to explore better living options and plan for the future smoothly.
The new budget of 2017 put forward by Finance Minister Michael de Jong has come in at the right time for first time home buyers. The budget has cut down MSP premiums by 50%. The budget has accommodated first-time buyers by increasing the threshold to $500,000 or less for exemption in payment of maple ridge property tax. The government will also provide interest-free loans of up to $37,500 to the same segment.
In terms of buying experience in Maple Ridge, Angelina Protopsaltis comes in on top of the list. She is a brilliant agent who runs a successful business in the community.
She not only showcases the best properties keeping in mind one's budget and needs but also ensures an amazing experience. Angelina has time and again ensured the best for her clients and goes to great lengths to achieve the same.
If you are somebody looking to settle down and start a family or even just a working professional looking for some peace and serenity, the town will certainly fit the bill. It is situated in the most beautiful location possible surrounded by mountains and rivers.
It provides for a home away from home with its positive environment and ever so supportive neighbours. The area is accessible from every other main town and is perfect for those looking to have a busy life but come back to a peaceful and calm home in the evening. In terms of investment as well, it provides great subsidies and mortgages as well.
All said and done, the City of Maple Ridge is known for its warm and welcoming people who go to great lengths to support you and your initiatives. You won't just build a family but will be part of a community. Here, people roll up their sleeves and get things done.