Leave Your House and Live Your Life: 5 Benefits of Selling Your House in Your 60s
Posted by Hani Faraj on Tuesday, April 17, 2018 at 9:30 PM
By Hani Faraj / April 17, 2018
Comment
Many seniors are calling us with questions on how to sell their property and how it could be advantageous for them. Their concerns especially, but not limited to, is they have accumulated so many items in storage and in their garage, they have no idea what to do with it.
Generally, people are afraid of change and those who retire in their 60s are afraid to let go of the home they have built and/or lived in for several years and often overlook the benefits of starting over again.
The current real estate market in Vancouver and the Fraser Valley is crazy with prices reachingnew records every single month, it is becoming more and more appealing to sell your home and consider a condo. We are here to simplify the entire process and to give some ideas to objectively consider trading in your old home for a new house or apartment.
Here are 5 benefits to selling your house upon retirement that you could think about:
Financial Practicality.
Maintaining a big space also requires bigger expenses. Maintaining a house, regardless of the size, requires constant repairs, updates and cleaning. The older the property is, the more maintenance is required as well. You will also continue to pay utilities, yearly property taxes, insurance and mortgage if applicable. Even if you have more than enough retirement savings, you could be spending more than necessary to maintain your place.
Think about the money you will be spending on spaces you do not always use.
Think about all the other things you can enjoy with the money you worked for and saved up to retirement. In some cases, you can still use the money you have to invest so that you continue to earn after retiring.
Less Space Is More.
There are many inevitable changes that happen as people age and that include changes in the physical, physiological and mental aspects. Taking care of one's self becomes harder as years go by. You will eventually need the assistance of others to move around and do things.
Many of the stuff you own now will prove little to no use for you as years go by.
For instance, the house you own must have been bought with more residents at that time. How many are you left living in that property? Think about the bedrooms rarely or not used at all. Think about the bigger living room, kitchen, dining room and other common spaces that you do not occupy as much anymore. Think about how tiring moving around becomes.
Opportunity To Design Living Space According To Current Needs.
Selling the house you currently own gives you freedom to choose a house or a condo that would suit your current need and lifestyle. Moving on also gives you the option to live in a place you have wanted to reside in.
Do you remember the time you last looked for a house or a condo? When you decided to live in the home you live in, you were most likely in a different situation. You could have considered proximity to your office or other places such as schools when you chose your house. Now is the perfect time to think about where you want to be at this point.
Have you always wanted to spend your retirement years in a house or a condo by the beach? What about a place with ocean or mountain views. Have you dreamed about moving to a busier city? We have a client that did a complete turn-around and moved to downtown Vancouver so he can walk everywhere and he wanted to be close to the Vancouver Art Gallery. Would you rather be in a more laid back city like Langley, White Rock or Maple Ridge? Moving out of your current house could also mean moving into a better place for you.
Perhaps you want a smaller garden or community garden to attend to. Perhaps you want a smaller kitchen with lesser but essential utensils. Perhaps you want to let go of the stairs.
Creating New Memories.
People get sentimental and more often it is the memories made in their houses that make it harder for them to think about selling their homes. It is often the happy times that happened in the different areas of the house that stop them from giving up the space. Remember that nobody can take away those memories from you.
Cook with your loved ones in your new kitchen. Watch TV with them in your new living room. A break in routine could be refreshing. A change in space and pace could make you happy.
A house is just a structure, home is what you make it. You create your home wherever you may be.
The Joy of Giving and Sharing.
There is an opportunity to give and share when you put your house for sale. Look at all the things you have collected throughout the years inside the house. Take with you the most basic stuff you can't live without. There are other people who will benefit from the other things you can do without. Think about the family members, friends and institutions that would want and need them. Sometimes we negotiate furniture or appliances as included in the selling price when selling.
Also, you give other people the chance to make happy memories in the house you live in. You allow people who once needed the space like you did to enjoy what you did with the home.
I once sold a house and my client didn't care about selling it for the highest price, they wanted to sell it to a family that will benefit from it the most. The children write a letter to my sellers saying how they could build a swing set in the back yard, and how they can carve their names in the tree trunk. My sellers were moved and even though the sellers received multiple offers and the offers were for a higher price, my sellers wanted to give the house to the family that would love the house as much as they did! Imagine the impact you would make on a family like this.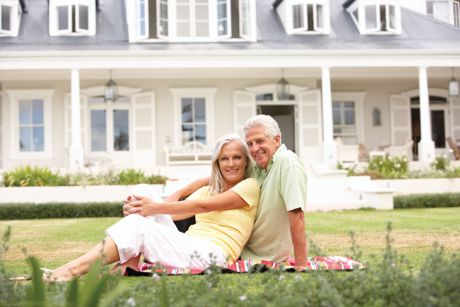 Embracing change is not bad but there are many aspects to selling and buying a property. There are many things to take into consideration such as current value in the market. While it is practical and beneficial for others to sell their houses upon retirement, for some people it will not be applicable. Some people would love to make their properties their legacy. Other clients of ours have decided to leave their home to their children to keep forever.
There are also different rules and laws that govern the Real Estate Industry. There are exemptions that could apply to you and some don't. It is best to consult a professional real estate agent when you are planning to sell and/or buy any property.
A good real estate agent will be able to help you reach the right decision and make the process easy for you.
About the author:
Hani Faraj and his team are known to take care of their clients and take care of them like family. They provide clients with junk removal, staging, they can help with booking a storage room, and even book movers. There do 38 things to ensure the home is marketed and sold for the highest price and never waiver on customer service or the highest standards.
They go the extra mile to find ways to make sure every transaction is beneficial to all parties involved. Hani Faraj will make sure that the property you sell and the property you buy suits your needs and requirements.
Hani Faraj and his team also takes care of your property's advertising and marketing needs. Their services include taking professional photographs and creating virtual tours and posting on different websites and social media to generate interests and leads. They also offer free staging of your home which includes decluttering and rearranging to attract more buyers.
To know more about Hani Faraj and his team, check the website: http://www.HaniFaraj.com/
If you are, or anyone you know would be interested to sell or buy any real estate property, you can conveniently schedule an appointment by clicking the button below.