July sales also came in 33.5 per cent higher than the 10-year sales average for July.
REBGV president, Darcy McLeod noted that the market "continues to benefit sellers as home buyers compete for the homes available for sale."
Listings
Sellers listed 5,112 detached, attached and apartment properties in the Metro Vancouver area. This was 3.8 per cent more than the 4,925 new listings for July 2014. This brings the total number of current listings on the region's MLS® to 11,505. This is a 26.3 per cent decrease against July 2014 numbers and a 5.5 per cent drop compared to last month.
What's Driving Demand
The REBGV pointed to three primary drivers behind the stats:
Strong consumer confidence
Low interest rates
Reduced supply of homes for sale.
According to McLeod, "We have about 5,000 to 6,000 fewer homes for sale today than we've seen at this time of year over the last five to six years."
Vancouver Home Prices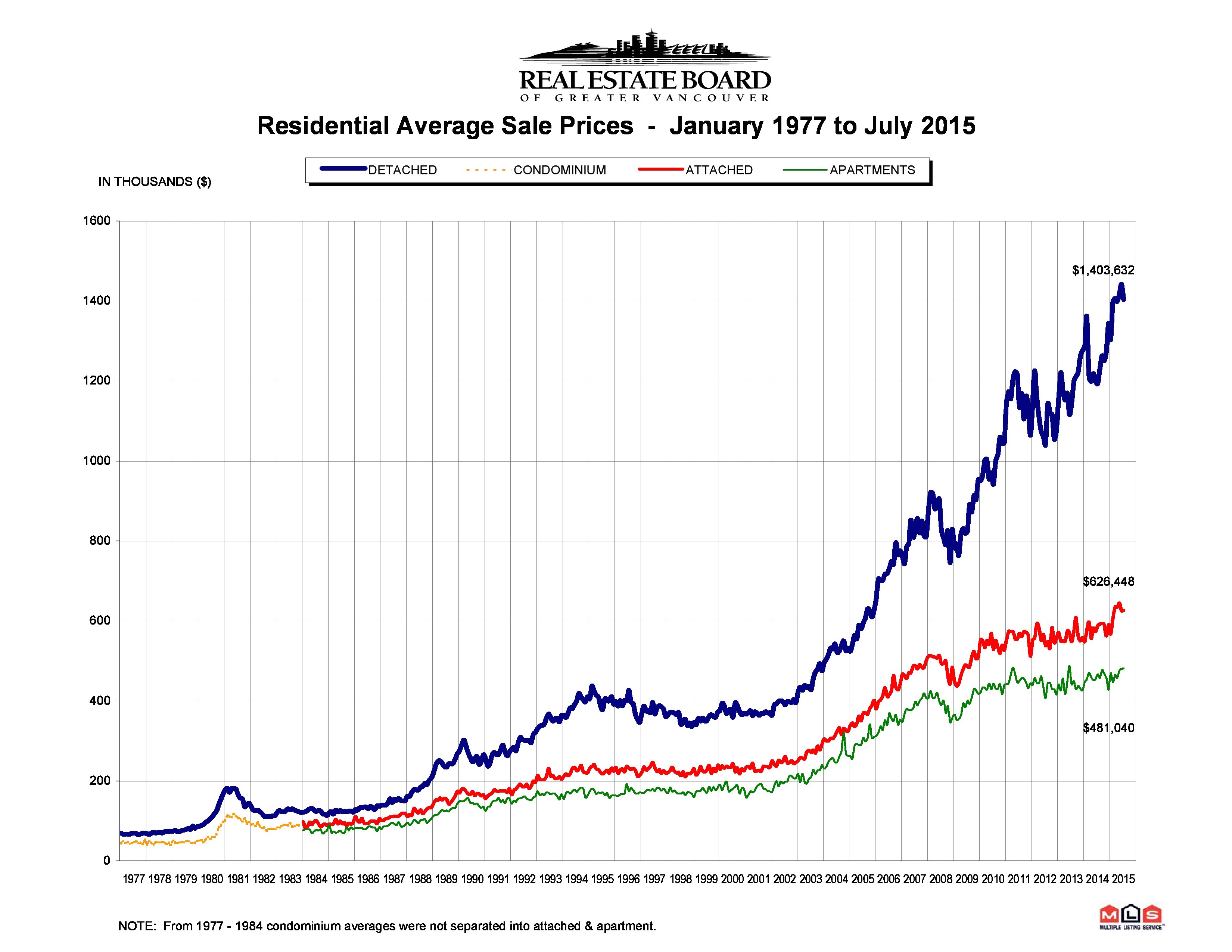 The Metro Vancouver MLS® Home Price Index composite benchmark price topped $700,000, coming in at $700,500 for all residential properties. Metro Vancouver is currently $700,500. This price is 11.2 per cent higher than the benchmark for July 2014.
And once again, the the sales-to-active-listings ratio of 34.6 per cent is clearly in the sellers' favor.
But McLeod said buyers still have plenty of housing options in different price ranges despite the lower number of listings compared to the last few years. He also cited this "price diversity" as another factor driving home sale up.
Detached Properties
Detached properties continued to create the most demand, as 1,559 sold in July. This is a 17.9 per cent rise over the 1,322 detached homes sold one year ago (July 2014) and a 24.8 per cent jump over the 1,249 homes sold in July 2013. The benchmark price for detached properties also climbed 16.2 per cent compared to July 2014, coming in at 1,141,800.
Condo (apartment) sales rose to 1,729 in July 2015, an leap of 42.7 per cent. Only 1,212 units sold in July 2014. The 1,728 was also a 42.9 per cent increase over 1,210 sales in July 2013. Th benchmark price rose too, rising 5.9 per cent to $400,900.
Townhome (attached property) sales came in at 690 units. This was a climb of 30.9 per cent over the 527 units sold last July and 41.7 per cent more than the 487 sold in July 2013. The benchmark price also trended upwards 7.8 per cent to $511,500.
– Hani Faraj
What Does It Mean?
Rising sales and declining listings of homes for sale mean one thing. Competition for the supply of homes on the market will create extreme competitive, leading to bidding wars in some situations. That's why you need a professional realtor who can access properties before they get released to the public and negotiate skillfully for you. Call me at 778-800-2587 or fill out out online contact form to discover how we can give you the advantage you need in this one-of-a-market.
*Areas covered by Real Estate Board of Greater Vancouver include: Whistler, Sunshine Coast,
Squamish, West Vancouver, North Vancouver, Vancouver, Burnaby, New Westminster, Richmond, Port Moody,
Port Coquitlam, Coquitlam, New Westminster, Pitt Meadows, Maple Ridge, and South Delta.