How To Determine The Value Of My House?
Posted by Hani Faraj on Wednesday, September 12, 2018 at 10:15 PM
By Hani Faraj / September 12, 2018
Comment
Every investment is a worthy investment. One that we make only after weighing all the options possible and charting up a pros and cons list. It's the same whether you invest in stocks, diamonds or your very open home!
When it comes to stocks or commodities, it is very easy to find out the true value, just look it up online! But, when it comes to real estate, the issue is a little tricky.
The answer may seem simple. The value of my house would be worth how much a person is willing to buy it for. Well, I would like to buy it for just 10 bucks, possible?
No way!
But, is the value so determined by a lender, agent or tax assessor correct? Can you trust them?
Well, knowing your own home's value helps you to buy, sell and re-finance efficiently. This can be achieved with a mix of online tools, trained professionals and some common sense.
Here are 5 ways to Calculate a Home Value
Online Valuation Tools
Though there are many online tools which will pop up in your google search, such as the Automated Valuation Model so provided by the big real estate or lender sites. This tool basically uses a mix of mathematical modelling and public records about taxes, deeds of ownership to arrive at a specific number.
But, is this accurate? Like they say, you cannot trust the internet.
Most of these tools are meant only for marketing and lead generation because of which the accuracy can be a hit or a miss.
But, the tools so used by established lenders and real estate agents is different. These tools use a "confidence score" to indicate how close the AVM provider thinks an estimate is to market value. A confidence score of 90% means the estimate is within 10% of market value, for example, though each AVM has its own way of calculating confidence.
Another option is to opt for a professional-grade AVM with confidence is linked to a much better accuracy but you need to do your research before you start running for it.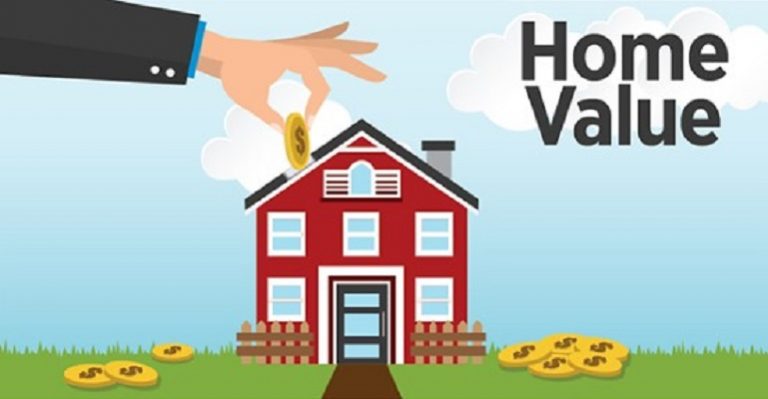 How much is your home worth? Click here to find out
2. Broker Price Opinion is gold!
When you are getting serious about your home value, at least more than googling it out, it is a safe bet to approach a local real estate agent and ask for a Broker Price Opinion, BPO for short.
As the name suggests, it is not a professional report or appraisal but it is an agent's opinion about the home's value vis-à-vis the market and what it will hopefully fetch once listed.
Though pretty useful, be sure to factor in the fact that this opinion is given with a tiny bit of hope that you will hire them as your selling agent. So, Beware!
3. Use the HPI Calculator by CREA
You can always trust a credible source like the Canadian Real Estate Association which has its own House Price Index Calculator and applies a much more scientific approach without any hidden intent.
The calculator tracks a house's change in value from one sale to the next. Then it uses this information to estimate how values fluctuate in a given market. This is a much easier way to track the growth of your home over time.
It may sound amazing, but you need to also keep in mind that this HPI calculator and the way it is designed will also look at conforming home mortgages and does not account for inflation or seasonal changes.
But, if you have a conforming mortgage, this is a pretty good idea to find calculate home value
4. Professional Appraisal
Though we slightly touched upon this point earlier, professional appraisals are a pretty popular option. Many lenders by law require an appraisal to approve the mortgage. But, you can also choose this option any time.
These professionals can value the home according to your need, be it the value of your home on a specific date, its current market value for a re-finance or purchase.
How is a professional appraisal different?
These appraisals account for many other factors left out by previous options such as the:
Market – the region, city and neighbourhood.
Characteristics – Value of land, improvements, renovations
Comparable properties – On other listings, sales, cost, depreciation and so on.
This data is combined to create a final opinion of determine home value and delivered in an official report.
5. Comparable Properties
Be it the AVM tool or professional appraisals, they often rely on very important variable which is the sale of comparable properties.
By analysing comparable properties to the mix, one can determine the market value without paying an appraiser, but you have to use good judgment. We are here to tell you how. You need to use an "apples to apples" approach.
Here are a few steps:
Browse recent sales online – You can use your local MLS service to find comparable properties
Use at least 3 properties – This helps get a good range
Use logic - You'll need to adjust for differences between your home and the comparable properties. This can be in terms of interior, improvements, and so on. So add and subtract accordingly.
After adjusting values, look at your highest and lowest comparable properties. A rough estimate of your home value is somewhere in the middle.
Read Also: How long does it take to sell a house
Why do you need to stress on the value of your home?
By knowing your home's value, you will be able to understand and analyse what you can afford, determine whether a listing is priced appropriately and decide how to price your own home when you wish to sell or buy.
But, the pros just don't end there. By finding the value of your home, you will be able to analyse the options of refinancing, insurance premiums and property taxes based on home value.
You get to choose the way your home is treated in terms of any process, be it the taxes or buying and selling.
Don't you want that?
Just buy following a few easy steps, you can gain control over your home and make choices that you will be proud of in the future when you look at how much you save! In terms of money and time.
Want to have a chat about the property or about your buying or selling needs?
Book an appointment today with Mr. Hani Faraj and be relieved of any stress.
Try our free app! This free app has property search, property listings, mortgage calculator, and allows you direct contact with your local agent BCHOUSEFINDERS.COM and preferred service providers like #mortgage brokers, #insurance providers, and find offered #discounts !