Bear Creek Green Timbers, Surrey
Posted by Hani Faraj on Monday, October 8, 2018 at 10:25 PM
By Hani Faraj / October 8, 2018
Comment
Take a breath of fresh air in the lush and relaxed neighbourhoods of Surrey and get a tour of the fresh grounds that await the warmth of your starter home!
Surrey is an area that presents a quiet and quaint ambience, with large green spaces and an abundance of greenery. For those who enjoy spending their leisure hours in the throngs of nature, Surrey is the place to be. It provides a tranquil neighbourhood, an ideal place to build your home.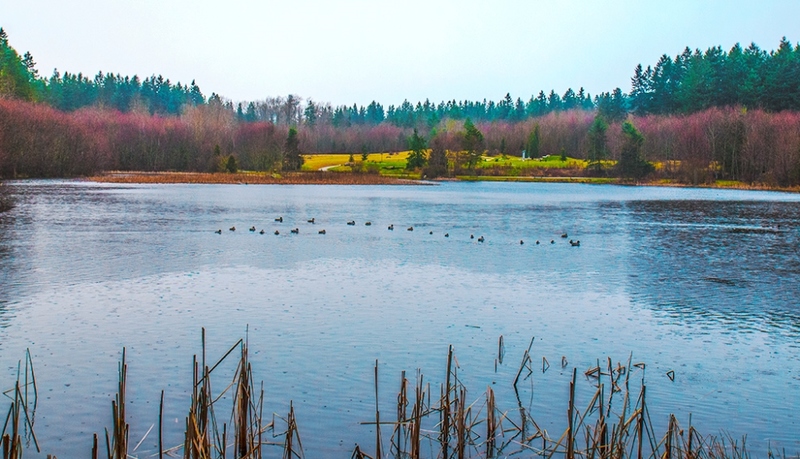 Lake at Green Timbers. Photo credit to City of Surrey.
This neighbourhood has ample advantages that just can't be missed. It has a lot to offer for a prospective settler. Bear Creek Green Timbers is one of the best places within Surrey, a well-connected area that provides for its residents in all ways imagined. It has an array of services provided to the residents at convenient distances. With over 500+ restaurants, eateries and cafes within the locality, you no longer have to worry about picking out a hangout spot for your brunches or coffee dates. There are over 150 stores available, so forget about grocery hassles anymore, because Surrey is here for you!
Parks and Playgrounds
Bear Creek Green Timbers has a large number of parks and playgrounds in the vicinity as well, known for lush greens. You can now enjoy Sunday picnics in parks near your house. You no longer have to travel somewhere far for a peaceful family outing, here in Surrey, that serene ambience is brought to you at your doorstep.
Education
When it comes to education, the schools in the vicinity are easy to access by foot. Having more than 10 well established educational institutions within a 3km radius, residents have a trouble free and convenient life here at Surrey. The area is also home to some of the province's highest-ranked schools, including Southridge School and Relevant High, within a 15-minute driving radius. The district also hosts some of the other prominent schools, which include the Princess Margaret Secondary, Clayton Heights Secondary and Regent Christian Academy. It also has a good combination of historic restaurants such as The Green Lettuce, Old Surrey Restaurant and New York New York Greek.
The best way to move in Surrey is usually driving, due to easily accessible parking spaces all across the neighbourhood. Recreational spots are generally equipped with large parking lots. Though this is not the only advantage in terms of transport. With the Scott Road Station, Surrey Central Station and King George Station within an equitable distance of all homes, residents of Surrey benefit greatly from the multiple train stations on the Expo Line available to them. Not only that, there are over 50 bus lines mapping the neighbourhood, eliminating any and all transit issues one could face.
Recreation
With recreational spots at every nook and corner, greenery splashed all across the neighbourhood, schools, stores, malls etc. at convenient distances and easy transport routes, what more can one ask for in a locality. Come experience living in the top of the class neighbourhoods of Bear Creek Green Timbers, Surrey, come be a part of this amazing community, come and build your starter home in the perfect place. Surrey is commonly called as the "City Of Parks" and is one of the best cities for families and individuals to settle in as it hosts various festivals, celebrations and activities as well.
147th Street, Surrey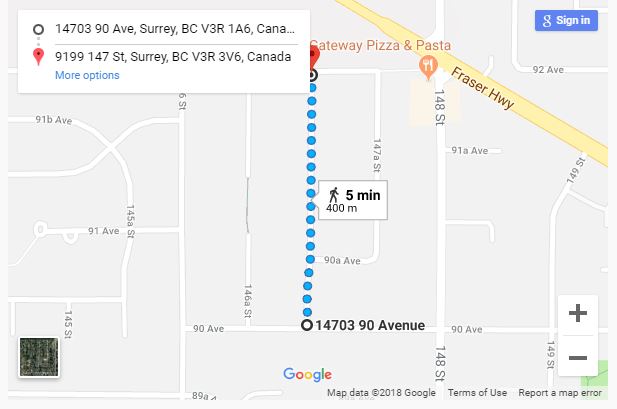 Here is your opportunity to get an ideal place to grow your family. Get your dream residence here along 147th Street, Surrey BC, V3R 3V7, get your key and unlock the doors to greener horizons and new beginnings.
This home is a complete catch where you can build your dream home with the best amenities and décor. You would be nuts if you did not grab this special chance before it slips out of your hand. Get the opportunity of a life time-- if you buy and submit your plans to the city, you may just be able to build a larger home before the city changes its rules in the City of Surrey.
Buy and hold and eventually build your dream home on this larger beautifully manicured 8200 sq. ft. lot. Get to craft your home the way you imagined it. Join hands with us and we'll help you create your dream home.
With freshly painted walls and well-maintained interiors and a beautiful flat back yard, there is unlimited potential for this plot of land to turn from a house to a home.
Just imagine the possibilities of owning this home. The backyard barbeques with family and friends, the star-filled nights with your partner and the relaxed Sundays spent playing with your kids. Or you can convert into a beautiful office for your business or just buy it for investment.
Can't wait? You can always call us for a visit and we will be happy to take you around!
Book an appointment today with Mr. Hani Faraj and be assured to have an amazing experience.