Beverley Chin
Real Estate Trusted Advisor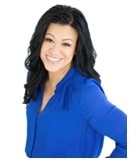 A HOUSE is built of walls and beams… a HOME is built of love and dreams!
Beverley (Bev) Chin was born and raised here in Vancouver, BC and speaks fluent English and Cantonese. Having graduated from BCIT in Marketing Management - Tourism, and worked in the most prestigious hotels like Four Seasons Hotels, she's always been interested in real estate.
With more than 20 years of sales and account management within large corporate companies, Bev is known for attention to detail and taking the time to understand her client's needs and doing that little bit extra that's above and beyond the expected. She is passionate about the needs and goals of her clients, and specializes in exceptional customer service and bringing peace of mind to home buyers/sellers. Bev strives to give her clients the kind of service and attention that she'd want if she were in their shoes.
Bev has a love for animals especially dogs (Bernese Mountain dogs). In her free time, Bev enjoys cooking, baking and spending time with her family and her dog, Charlie.
"Rest assured I will listen to you and understand your needs, wants and wish lists. I will do my best to help you achieve them all."