Beverley Chin
Real Estate Trusted Advisor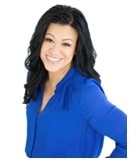 A HOUSE is built of walls and beams… a HOME is built of love and dreams!
Beverley (Bev) Chin was born and raised here in Vancouver, BC and speaks fluent English and Cantonese. Having graduated from BCIT in Marketing Management - Tourism, and worked in the most prestigious hotels like Four Seasons Hotels, she's always been interested in real estate.
With more than 20 years of sales and account management within large corporate companies, Bev is known for attention to detail and taking the time to understand her client's needs and doing that little bit extra that's above and beyond the expected. She is passionate about the needs and goals of her clients, and specializes in exceptional customer service and bringing peace of mind to home buyers/sellers. Bev strives to give her clients the kind of service and attention that she'd want if she were in their shoes.
Bev has a love for animals especially dogs (Bernese Mountain dogs). In her free time, Bev enjoys cooking, baking and spending time with her family and her dog, Charlie.
"Rest assured I will listen to you and understand your needs, wants and wish lists. I will do my best to help you achieve them all."
Testimonials
I have nothing but wonderful things to say about Beverley Chin. Beverley really listens to her clients and was very patient in our search for the perfect home. She was very responsive to our calls and was excellent in walking us through the home buying experience step by step without overwhelming us.

We wouldn't hesitate to recommend Beverley to any person who is looking to buy or sell a home.
Frances K, South Surrey (Buyer)
It was a pleasure dealing with Bev Chin. Based on her strategic marketing and pricing plan, I have total trust in her ability to deliver and would use her services again.
Marko Krilic, Coquitlam (Seller)
Beverly was great to work with while selling my condo in the Vancouver West side. She is knowledgeable and professional. I appreciate that she took the time to listen to my concerns and answer my questions while trying to sell my condo. Thank you!!
Johanne Vachon, Vancouver BC (Seller)
Bev was an outstanding guide during my recent home purchase. She is highly knowledgeable, efficient, and pleasant and helpful. She made this process easy and I've ended up with a home I love - and in a very short time period with no hassles at all! Thanks, Bev!
Ella Kinman Vancouver (Buyer)
I've had a not so good experience before when I bought for the first time my property, although we were of the same race, I thought I would be informed clearly of what to dos' and what to expect and what help she could give me. So when we decided to sell our property and buy a new one, I've had a talk with a realtor which was referred to me by a friend but kinda too scared to sell because there's a lot of issues I was thinking of during that time like the renovation, the downpayment more of financial problems to deal with, and if the realtor could help us get a good deal when offer comes in. Good thing my husband was able to talk to Bev and had a meeting with her and Hani, I thought they're just same realtors who's more of just getting the commission and after that you're all by yourself like what happened to me before. But thank God they are angels sent to us, they listened to all our concerns from start to finish, they set up the staging of our home without fees, gave our needs to pack up our things like boxes,bubble wraps and their help (which are NOT provided by other realtors!).

Then when we get to the financial problems like renos(if needed) mortgage broker and the downpayment, since they work as a team we didn't have a problem going through those stuff because their staff(thanks to Lev!) are ready to get all your needs done right there and then. That's why I am so grateful and fortunate to have met this team and will definitely recommend them whoever needs a superb teamwork !!! Special thanks ofcourse to Bev who didn't left us all through out from selling and buying a new one,sending us what to do list aftersales, you've been very patient and helpful, we appreciate it very much!!!Special thanks also to Hani for all your support and getting our concerns taken care of!!!
Hazel from Guildford Surrey (Buyer)
More Testimonials